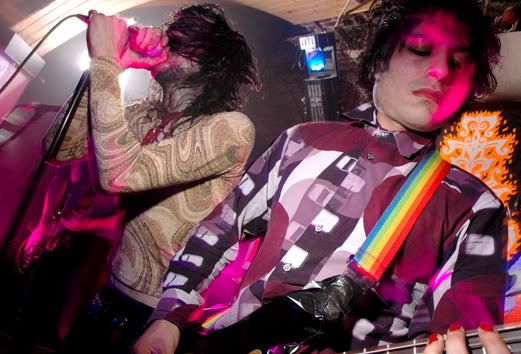 Anyone who thinks the seaside is all about days out and cheesy smiles needs to check out The Eighties Matchbox B-Line Disaster, Brighton's most terrifying gothic-rockabilly band.
Eighties first appeared in 2002 with the Horse Of The Dog album. Clocking in at just 28 minutes the record is a blast through the young punks' limited but intensely-focused influences -Â The Doors, The Pixies, The Cramps, The Stooges, Elvis -Â and is a psychotic collection of short and powerful shards of rock evoking far more of the dark side of rock'n'roll than the band seemed capable of being aware of.
Their lives gigs began as shambolic, unlistenable blasts of white noise and chaos, but they developed at an accelerating pace and the group quickly gained a reputation as the best live band as Brighton. They were signed to a major label and their gigging schedule 2002-3  looked like the intense itinerary of the most commercial of boy-bands, to which Eighties were by now  the complete and natural antithesis. Lead singer Guy McKnight was regularly injured in his nightly outings into their crowds' moshpits, guitarist Andy Huxley damaged both kneecaps with his frequent kneedrops, and bassist Sym developed tendonitis as they hauled their monstrous collective carcass up and down the UK.
Eighties' second album, The Royal Society, was long delayed by their record company and it was a tribute to the band's collective sense of self-worth that on its eventual release they were still able to deliver their incendiary live show with more visceral thrills than ever. Unlike their debut, the follow-up was a full-length affair but it seemed to lack the burning focus of their first record, even as it revealed the band's technical development and expanding sound. The band parted company with their label and Huxley parted company with the group, going on to form the abstract metal band Vile Imbeciles.
Eighties are still developing their satanic majesty without him, however, as their MySpace site reveals – new mp3s are available for download, and the pictures from their hell-raising recent gig at Brighton's Beach venue capture the essence of one of Brighton's most exciting bands very nicely.
Powered by Qumana